Although relatively little attention is paid to it, Orthodox Christian migration in the West matters. A recent book offers various insights on the current situation of Orthodox Churches in Western Europe, as well as related challenges, adjustments and innovations. It primarily focuses on Orthodox identities in new environments.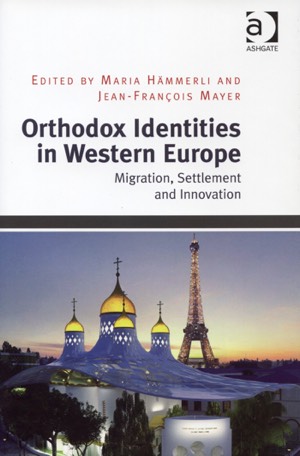 In comparison with the current flourishing of studies on the Muslim presence in Western Europe, the Orthodox Churches remain surprisingly understudied from a sociological perspective. There is interest in the history, theology and visual expressions (especially icons) of the Orthodox tradition, but little attention is being paid to the sociological realities of the Orthodox presence.
Ten years ago a Swiss Orthodox author, Christine Chaillot, published first in French and subsequently in English A Short History of the Orthodox Church in Western Europe in the 20th Century (Paris: Inter-Orthodox Dialogue, 2006), described as a "short but comprehensive overview". This valuable effort was meant primarily as a volume of interest for Orthodox themselves, with short contributions written by Orthodox authors, and not as an academic undertaking.
The book reviewed here is also a product with Swiss roots: the idea for it started at a conference organised by the book's editors at the University of Neuchâtel, Switzerland, in December 2010, under the sponsorship of both the university and Religioscope Institute. (Religioscope also helped to fund the editing of the volume.)
Orthodox Identities in Western Europe: Migration, Settlement and Innovation (Farnham: Ashgate, 2014) has been edited by Maria Hämmerli and Jean-François Mayer. The volume comprises a 26-page introduction putting the issues raised by various contributors in a broader analytical context and 15 chapters by authors from various countries and academic backgrounds; some authors are themselves Orthodox, but not all of them. A few authors have a theological background, but most come from other academic disciplines.
The editors did not attempt to cover all European countries, nor to provide descriptive country-by-country chapters – although there are a few chapters of this kind, such as the overviews of Orthodox Churches in the United Kingdom (Hugh Wybrew) or in Germany (Reinhard Thöle). Several of the chapters focus on one country, but with emphasis on a specific topic. For instance, the chapter on Norway by Berit Thorbjørnsrud discusses the role and status of priests among the 12,000 Orthodox residing in that country. "Service in the Norwegian diaspora is demanding", she observes. They must tread carefully, since "it is rather lay people who have acquired more power" and the "presence of parallel jurisdictions contributes to a sense of competition": dissatisfied lay people could be tempted to move to another jurisdiction. "In Norway, for the time being, the priests are clearly not so much ruling as serving" (pp. 207-209).
Intra-Orthodox tensions as they evolve in the specific environment of a country where Orthodox are a minority, with several jurisdictions being present on the same territory, are illustrated in a chapter co-authored by Maria Hämmerli and Edmund Mucha on "the crisis in the Diocese of Sourozh in Britain", with a focus on debates regarding innovation and tensions between continuity and renewal in new environments. This diocese, which is under the Moscow Patriarchate, "had steadily assimilated into British culture and life and had grown numerically with British converts up through the 1990s, when it received a massive new influx of Russian-speaking immigrants" (p. 291). Dissimilar and conflicting visions of the Church and its calling led to a split in 2006, with one bishop and part of the clergy and parishes being received into the Exarchate of Orthodox Parishes of the Russian Tradition in Western Europe (under the Ecumenical Patriarchate of Constantinople), while the other part of the diocese continued under the Moscow Patriarchate. Obviously, such an option would not have been available in the same way in Russia.
Clearly, the Orthodox Church is not static, despite its profound attachment to tradition, which also plays a role in its attraction for some Christians of Western origin. Even innovation "occurs under the cover of a traditionalist discourse and in the name of staying faithful to the spirit of a living tradition", Hämmerli and Mucha remark (p. 302). Or to put it in another way: "innovation in the Orthodox Church consists in a creative interpretation of tradition" (p. 21). The place of tradition is also at the heart of the chapter by Laurent Denizeau on the importation of the "Great Athonite Tradition" in France and the "emergence of a French style of Orthodoxy": the chapter is devoted to monastic foundations in France by Father Placide Deseille, originally a Trappist monk who entered the Orthodox Church in 1977 and stayed for nearly a year at Mount Athos in Greece, before returning to France to establish a dependency of the Athonite Monastery of Simonos Petra.
The French monks describe their monastery as "the Athos outside Athos", thus emphasising that they rely on the same tradition. "Through their prestigious Athonite filiation, the Simonos Petra dependancies in France guarantee 'authenticity', a recurrent word in many visitors' discourse, and are a resource for lay people and secular clergy and a representative of this 'Great Tradition' in France" (p. 255). Monasticism becomes a "privileged vehicle" for transplanting and implanting the Orthodox tradition in France. But living in France makes monasticism necessarily different from what it would be in an Athonite environment:
The challenge for planting Orthodoxy in France is to move beyond national identities in order to create a 'French style of Orthodoxy', to quote the founder of the metochia of Simonos Petra in France. This means to find a local expression of a message which is supposed to be universal, a Western way of living the teachings of the primitive Church (p. 262).
If the Orthodox tradition is then not merely defined as "Eastern Christianity", how does it relate to the Western Christian legacy, especially that of the first millennium, before the ecclesiastical split between East and West? This question is raised by a chapter written by Religioscope editor Jean-François Mayer on attempts to create Orthodox groups using Western instead of Byzantine rites. Such projects started in the 19th century, and a quite active movement was launched in France mostly in the years after the Second World War (what came to be called the "Église catholique orthodoxe de France"), but had a troubled history, and most of its still-existing parishes are no longer in communion with "canonical" Orthodox Churches. Today, the most active Western rite groups within "canonical" Orthodox Churches (i.e. those in communion with historical Orthodox Patriarchates) are found in the United States, with specific backgrounds (e.g. reactions against developments in the Episcopal Church). Interestingly, the argument of "tradition" proves to be a strong one, although with partly different practical implications, for converts both to Eastern and Western ritual forms of Orthodoxy. As the chapter shows, the existence of Western rite experiences raises some important issues for the presence of Orthodox Churches in the West and their understanding of the universality of Orthodoxy.
Encounter with the Western Christian legacy and the role of converts also takes an important place in a chapter by James A. Kapaló on Orthodoxy in Ireland, which offers a welcome overview of recent developments (the history and the current situation). "In 1991, there were just 358 Orthodox in Ireland according to the official record; by 2011, this had grown to 45,223." While most of those are immigrants from Eastern Europe, there is also a growing number of converts, considered by the author "both as mediators of the local context and innovators within Irish Orthodoxy" (p. 229). Moreover, in a section on "discourse and practices of autochtonism", Kapaló pays attention to the ways in which "the West's religious past" (and more specifically here Celtic Christianity) is reinterpreted "as prototypically Orthodox" (p. 242). Ancient religious Celtic Christian sites are visited both by immigrants and converts, thus being incorporated into a "pan-Orthodox transnational space" (p. 247).
While the role of converts is mentioned often (in the United Kingdom, as in other places, "there is a significant proportion of convert clergy" [p. 149]), most of the chapters centre around Orthodoxy and migration: as the title of the volume indicates, its guiding thread is "the issue of Orthodox identities in a migration context" (p. 5). Indeed, even some attempts at restoring a Western rite within Orthodoxy are closely linked to reflections of migrants about their role in a non-Orthodox environment (p. 286).
Suna Gülfer Ihlamur-Öner devotes a chapter to the Romanian Orthodox presence in Italy, a significant phenomenon, since there are more than a million Romanians in the country. The Romanian Orthodox Diocese of Italy was recognised by the Italian state in 2011. Romanian parishes in Italy play "important roles in community building and structuring migrant transnationalism in the Romanian-Italian transnational spaces" (p. 45): they are "the main reference points for Romanian immigrants whether they are practising Orthodox or not" (p. 35). Increasingly, Romanian Orthodox in Italy are planning "to construct or transform buildings into Romanian-style Orthodox churches" (p. 46). For the time being, however, they often use Roman Catholic churches made available to them or share them with a Catholic parish. This leads to new interactions and opportunities for mutual knowledge across Christian traditions. This interaction is mentioned in several chapters: in not a few cases, Orthodox parishes have benefited from the hospitality granted to fellow Christians by Roman Catholic, Old Catholic or Protestant parishes.
Sebastian Rimestad and Ernest Kadotschnikow have chosen the "ambivalent ecumenical relations among Russian Orthodox faithful in Germany" as the focus of their chapter, based on case studies of four parishes. In Germany in general, the authors point out that the level of openness toward ecumenical activities tends to differ between Orthodox groups of different national origins: "The Russians and the Serbians are less apt to participate in ecumenical services than the Greeks and the Romanians, for instance" (p. 111). In a country such as Germany, since the Orthodox are at the receiving end of ecumenical cooperation and tend to benefit more from it, they are more willing to engage in it: "In the canonical territory that the Orthodox Church claims for itself, the latter has never and would never offer one of its houses of worship for use by Roman Catholic or Protestant congregations" (p. 107). Still, the fact remains that this cooperation means that Orthodox parishes in Germany often participate in local ecumenical activities: thus "the positive aspects prevail" in the end, according to the authors, who also remark how Western Christians are open to integrating elements of Orthodox spirituality and practice into their own faiths (pp. 111-112).
Maria Hämmerli analyses more generally the integration of Orthodox into their host country based on her observations of the situation in Switzerland. Regarding attitudes toward other Christian currents, she remarks:
When distinctiveness with regard to religion is underlined, on the one hand the Orthodox display a certain sense of superiority in relation to Western Christianity, which they perceive as 'dry', 'cold', 'soulless'. It might be assumed that this has further consequences on ecumenical relations, in which the Orthodox reportedly lack interest and enthusiasm. On the other hand, reflective talk reveals that the Orthodox strongly appreciate and admire the sense of organisation of the Western denominations, their way of building community and readiness to volunteer (p. 124).
Hämmerli avoids generalising: she has actually identified different types of parish organisational culture and states, and her field research has led her to identify three different parish styles: a "contemplative" style (centred on members' liturgical life), a "community-building" style (the role of parishes not only as providers of "spiritual goods", but as community centres as well), and an "inter-ethnic networking" style (building co-ethnic transnational ties, especially in Greek and Romanian parishes) (pp. 126-127). Probably one could say that those three styles should not necessarily be seen as strictly distinct and may overlap to some extent, but they are indicators of tendencies.
These are merely some of the observations drawn from the content of a 300-page volume. There are also chapters on population movements and Orthodox Christianity in Finland (Tuomas Martikainen and Teuvo Laitila), on Orthodox parishes in the French city of Strasbourg (Guillaume Keller) and on unity and division in Russian Orthodox congregations in Denmark (Annika Hvithamar). Moreover, two chapters deal with migrant communities with Syriac liturgical traditions in Scandinavia: one on leadership issues among Suryoye in Sweden (Naures Atto) and another on the transformation of social capital among Assyrians in the same country (Soner Onder Barthoma).
As already mentioned, the introduction by the two editors, Hämmerli and Mayer, goes beyond summarising the content and some key contributions of the book and engages in a discussion of key issues related to research on the Orthodox presence outside cradle countries of those Churches. Passing from majority to minority status has a number of consequences: new awareness of one's religious identity; living outside of an Orthodox habitus; issues of clergy education, recruitment and remuneration; adjustments to the role played by parishes; adjustments to a different (democratic) legal system for managing religious organisations; etc. (pp. 9-12).
While several authors use the word "diaspora" without discussing its relevance (thus reflecting its widespread use among Orthodox themselves), the editors call for a critical reconsideration of this term. They agree that "Eastern ad Oriental Orthodox migrant communities [show] diaspora-like features", and thus are "diaspora-minded". Some groups may evolve into real diasporas according to the strict meaning of the word: Armenians already fulfil the criteria. But the editors question whether all Orthodox in the West could be seen as forming an "Orthodox diaspora" merely "because they share the same religious affiliation": "it rather looks like a co-habitation of national/ethnic diaspora-minded communities with their respective churches, who are nevertheless aware of their religious affinity" (pp. 14-15).
It remains to be hoped that this volume will be a first step towards encouraging other collective efforts to study various aspects of the Orthodox Christian presence in the West. Further, regarding the specific dimension of religion and migration, it would also seem desirable to see comparative research done on groups with different religious backgrounds: for instance, despite obvious and deep differences, some of the issues for Orthodox Christians in Western Europe show clear parallels to those of Muslim communities (e.g. the changing roles of local parishes/mosques and of leadership).
As it is, this book on Orthodox identities in Western Europe already offers substantial and stimulating material on which future research could be built.
Maria Hämmerli and Jean-François Mayer (eds), Orthodox Identities in Western Europe: Migration, Settlement and Innovation, Farnham (Surrey): Ashgate, 2014, XIV + 306 pp.
---
The book can be ordered through a bookshop or directly from the publishing house: http://www.ashgate.com/isbn/9781409467540. When ordering online from the publishing house it may be worth searching the web for recent Ashgate discount codes (search Ashgate + "discount" or "coupon codes"), which may allow for significant discounts on official prices.