On a chilly December evening in Lucknow, Ramesh Avadhani attended a performance of the Bhagavad Katha. Our correspondent shares his experience.
December evenings in Lucknow are chilly. Hardly the appropriate time, one would assume, to sit in a wide-open park and listen to a discourse on the Bhagavad Katha or the story of Lord Krishna's childhood. But one of the organizers of the event kept insisting I should attend. "This is the season in northern India for kathas," said Santosh Awasti. "They are both entertaining as well as educative." Indeed, my experience of the program lived up to his promise. Also, there was something mystifying about the katha vachak or storyteller that held me captive till its denouement.
Popularity
The most popular kathas are on Rama and Krishna, believed to be the two most significant avatars of Lord Vishnu. Discourses on Lord Shiva, known as Shiv Purana, are equally widespread. Vishnu and Shiva are the supreme heads of the two main streams of the Hindu pantheon which comprises scores of gods and goddesses, each endowed with specific powers and responsibilities.
I was familiar with the katha event in cities like Bangalore and Chennai in southern India. There it's mostly held in temples halls and courtyards. Sometimes public halls are hired. But here in Lucknow, virtually every neighborhood sprouts a discourse. Besides temples and parks, the discourse is held at homes of respected members of the society. For instance, I saw about thirty people crammed in a small apartment near my residence in Tilaknagar, listening to the narrator extolling the nobility of Rama as a husband, son, and king. The narrator's voice was amplified over loudspeakers, as if a thousand people were in attendance. It was of course for the benefit of the entire neighborhood. Whether everyone welcomed it or not is another matter.
Song and dance
The katha was bigger and more colorful at the Agrasena Park for which I was invited. A brilliant red and white pandal or marquee was put up at one end and festooned with colored lights, tinsel, flowers, and balloons. About two hundred people (mostly women, as the men were away at work) were seated, wrapped in thick woolens to ward off the chilly weather. Children frolicked outside on the lawns. Overhead the sky was swathed in pale vignettes of gold.
In addition to the narrator's voice booming over the loudspeakers, the strident music helped lend realness to the story-the clash of cymbals, the earthy beat of tablas (Indian drums), and the rustic notes of the harmonium. Even the violence of a thunderstorm and a raging river were replicated by an electronic keyboard.
"I have seven musicians trained in the satsar classical form. They accompany me wherever I go," Atul Kumar Shastri, the 31 year old katha vachak was to tell me later. He was attired in silks and his long black hair glistened under the lights. "They instantly pick up from the tone of my voice what kind of music to play."
Indeed, his style of narration would do a Mark Anthony proud-now commanding, now cajoling, now tremulous. At appropriate places he burst forth into couplets and songs, urging the audience to join in. They did so with fervor–chanting, waving, clapping. Some women, apparently married because they looked to be in their thirties, stood up and danced freely but with grace. This to me seemed remarkable because orthodoxy rules with an iron hand in this region, one of the most backward in India, although there is a paradox–quite a few things are licensed in the name of religion (and wedding celebrations)!
Thrill and drama
"This narrator is one of the best in the business," said Sunil Kumar Srivastava, 61, a retired college principal from Gorakhpur. "His language is simple and he explains well."
Suddenly hoof beats sounded, and Shastri thundered from the dais:
"The charioteer drove the evil king Kans to an astrologer who foretold the king's doom at the hands of the eighth child of Devki."
Shastri went on to describe Kans' anxiety, his devious plan to kill every newborn of Devki, his own sister. The audience drank it all in with shock and awe, and waited for more thrill, more drama. The Bhagavad Katha had it all:
Briefly, Kans, a boy, and Devki, a girl, are the two children of Ugrasena, the much loved king of Mathura. But when Kans grows up, he wants the throne. He promptly jails his father and marries off Devki to a warrior named Vasudev.

On their wedding day, Kans learns from an astrologer that Devki's eighth child would kill him. Kans right away prepares to kill Devki, but Vasudev who loves her deeply pleads for her life. Kans yields on the condition that the two would spend the rest of their lives in prison and hand over to him all babies born to them. In such manner, the evil king kills six children of Devki but the seventh is divinely transferred to the womb of Vasudev's second wife, Rohini. Kans is fooled into believing that the child died in a miscarriage. Thus was born Balram, Krishna's brother and constant companion.

The eighth child is of course Krishna, born during a stormy night. The guards are asleep and the doors of the prison open on their own. Hiding Krishna in a basket, Vasudev and Devki sneak out of the prison and head towards the house of their friend, Nand, who lives in Gokul. They have to cross the raging waters of River Yamuna. But just the touch of Krishna's foot quells the violent river; it separates to make way for the family. It is only then that Vasudev learns that his son is no ordinary mortal.

Nand and his wife, Yashoda, become Krishna's foster parents. Vasudev and Devki return to prison with Yashoda's newborn child and hand it over to Kans. But as the brutal king is about to kill what he thinks is the eighth child of Devki, it disappears into thin air. The child is only an illusion.

Krishna grows up to be a much-loved cowherd. An expert flautist, his music enthralls both animals and people, especially women who hunger for his love, his company. His extraordinary powers vanquish several demons and ultimately he kills his uncle, Kans, too, thus freeing Mathura from all danger and evil.
I went over to Santosh Awasti who stood in a corner, keeping a watchful eye on the audience. I told him I wanted to interview Shastri. "After the katha," he said. "Go up to the dais. He'll answer your questions."
Looking at the crowd, I knew that would be difficult; Shastri would be surrounded by people seeking his blessings. I asked Awasti if he could arrange a private place. "Not possible," he said, shaking his head and went to chide a boy who was jumping on a chair.
I stepped out of the marquee. An elderly man sat beneath a lamp-post, chewing contentedly on paan (betel leaf, nut, and lime mixture). He was D. N. Srivastava, 73, formerly of the Indian Army.
"It's only one who tastes the fruit who can describe the experience," he said. "All that a religious discourse demands is an hour or two of concentration. Then you experience something rich and strong to help you battle life's problems."
But didn't he find anything contrary to religion when he was in the army?
"Mine was a desk job actually, auditing pay and accounts of J &K Riles. Wherever I was posted, whether Srinagar or Simla, religion was close at hand in the form of a temple, a mosque, or a gurudwara [Sikh temple]. I didn't find anything contrary: my work was my duty and I saw the divine in everything. That's it. I may have imbibed things for personal pleasure which may be frowned upon in the strictest religious sense but I did it with moderation. Sadly, today's youth has gone to the extremes. If they could devote just an hour daily to religion, they would be better off. And it doesn't cost any money."
Organizing the katha
How much money did this katha cost? Prakhar Srivatsava, who works as a project manager in a private company, explained that the Youth Committee of Tilaknagar contacted Shastri a week in advance. "He said all right, he would come, that his fee is modest. He said 'just take care of all the other things, the pandal, the prasad or sacred food for distribution, the erection of the dais, the cost of musicians, pamphlets, banners, loudspeakers and so on.'"
The expenses came to only twenty-five thousand rupees [about US $560 or €420]. The committee collected donations from families in the locality. "Shastri does the katha because of his desire to spread the religious word. He is not interested in money. That is why we could afford him. Otherwise some speakers demand a lot and only rich people are invited for the event. It becomes an elite affair. Religious fervor gets diminished. Everyone is keen to show how important and rich he or she is."
Prakhar feels that the gurus and narrators should give, not take. "Ninety percent of kathas beamed over television or conducted in extravagant ways are by rich people who want to convert their black money into white."
Impact of the katha
Shastri was now urging the audience to make way for Vasudev who was going to bring Baby Krishna to the dais. The audience parted in the middle, just like the River Yamuna in the story. Then an elderly man, Awasti's father, shuffled in with a basket on his head. A baby doll was tucked away in silks. The man placed the basket on one side of the dais and people moved towards it, to look at the infant god and seek his blessings.
In such kathas, significant events are enacted to heighten the story's appeal. In the Bhagavad Katha, besides Krishna's safe passage from Kans' prison, the other events enacted are Vasudev returning to prison, the killing of Yashoda's daughter, and Krishna growing up in Gokul. But this particular katha staged a couple more: Krishna wooing gopikas or females even as a little boy and then his marriage to Radha.
"It's a pious love," said Srivastava. "The women, both young and old, overcome many challenges to be with him. Even as they love him, they complain about him, his antics! For us, by seeing his different facets-his playfulness, his diplomacy, his courage and strength, his sense of justice–we can get some inkling of how to solve our personal problems."
Finally, Krishna's marriage was enacted. He and Radha made a memorable impact with their beauty and ornaments. The audience once again streamed to the dais to pay homage and seek blessings by touching the couple's feet. (Even though Krishna and Radha were played by teenaged girls, people saw them as representations of the divine during the katha.)
Srivastava said his two children live overseas and didn't get to see such kathas. So, he sends them email messages of what he witnessed everyday and they appreciate the information. "When they were living with us, we used to take them to temples and kathas. Children won't imbibe our cultural and spiritual values unless parents demonstrate them"
Prakhar agreed with that opinion. "My own reason to associate with the katha is because I have a strong sense of Indian culture, thanks to my grandparents. How to pray at temples, how to accept the prasad (sacred food) and teertha (holy water) are things that one learns by observing. And children learn from parents. Most people of my generation have forgotten our roots or are ignorant of them. The katha helps us realize where we have come from, what our weaknesses are and how to overcome them." He believes the katha should be conducted on a much larger scale but in an honest way.
Prerarna Agrawal, a former executive with Population Services International, felt that the katha helps inculcate respect for elders and parents, a sense of brotherhood, and the importance of truth in spiritual evolution. "Truth is a difficult and lonely path. Often your friends and relatives keep away from you when you walk the path of truth. Many of the people that you see here may not practice what they have heard. But the fact is that life is zero without truth."
The mystery of the narrator
The katha finished with the distribution of sacred food (some of it like chocolates and corn puffs were thrown at the audience, and some like flavored butter and fruits were given in hand at the gates). I went up to the dais and Shastri bade me sit on one of the lower cushions. Even as members of the audience came up to talk with him, he answered questions from me, but his Hindi was of a high standard and difficult to follow. I only understood some of his answers:
He has conducted 986 such katha programs all over northern India and found Gujarat to be the best in terms of response. "There the people are more grounded in culture than in Lucknow." Religion was unfortunately commercialized in India today because the organizers behind religious programs had many personal desires that were not fulfilled. "One has to have purity of thought and intent to spread religion."
I wanted to ask him more questions but the increasing number of people around him as well as his high flown language deterred me. I spoke about this to Santosh Awasti and asked him again to arrange for a private place to interview the next evening. Again, Awasti said that was not possible. "You have to speak to him on the dais." I was puzzled. I wondered why I couldn't sit with Shastri in some corner so that nobody would disturb us.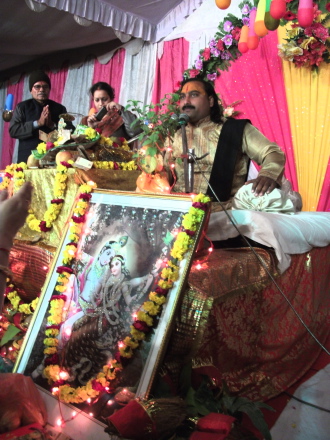 The following evening, Shastri spoke in simpler Hindi. "I am from Inayatpur in Hardoi district, about a hundred kilometers from here. I entered this line of katha vachak at the age of 16. Now I am 31. This work has given me tremendous satisfaction. Not only by birth, but by karm or deed too I have proved myself to be a true Brahmin, one who is close to the sacred texts. My parents encouraged me tremendously. Also I faced a terrible challenge in my personal life. I overcame it with the help of God. Now I am truly happy. I can go anywhere, even overseas, to give discourses on Rama, Krishna, and Shiva."
With that he stretched out his hand and plucked a couple of bananas from a bunch and gave it to me. "God be with you!" he said. Just then a modified scooter rolled in gently, pushed in by a helper and stopped close to the dais. Shastri placed his hands rigidly on the cushions and slid off with a mighty heave, his polio-ravaged useless legs folded beneath him.
Ramesh Avadhani
---
© 2011 Ramesh Avadhani and Religioscope. No part of this article or the accompanying pictures may be reproduced in any form without permission from Religioscope and the author.