The battle between Hillary Clinton and Barak Obama to be the presidential candidate for the U.S. Democratic Party has revealed the way in which religion has become an integral part of the campaigns.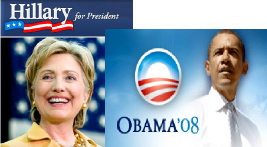 The Democratic Party has long been considered more secular than the conservative Republican Party, taking liberal stands on most issues that have mobilized conservative religious voters, such as abortion and gay rights. But the growing concern of the Democratic Party not to be seen as anti-religious was clearly on view in the campaigns of Clinton and Obama in Pennsylvania in late April. During his campaign, Obama, who has been under criticism for his affiliation with a church and pastor who espouses "Afro-centric" theology and alleged anti-American views, remarked that small-town conservative Americans cling to their religious faith and love of guns as a way of dealing with the frustration of their lives. The remark caused a furor of criticism within as well as outside of the Democratic Party. Obama pulled back from his remarks, renewing his call for Democrats to reach out to religious voters and calling attention to the "moral dimension to abortion." But pollsters have already noted the emergence of a "God gap" in Obama's appeal to voters, with rival Hillary Clinton now drawing a significantly higher percentage of churchgoers than was the case only two months ago. Judging by his loss in Pennsylvania and negative polling results (with a notable loss of Catholic voters), some analysts suggest that the damage made by Obama's remarks could last until the presidential elections in November, even as he disassociated himself from his pastor in late April.
In The Wall Street Journal (April 17), Daniel Henninger writes that up until recently negative remarks about religion or religious voters would not necessarily cause much of a stir among Democrats. In 1992, Republican Vice President Dan Quayle's remarks about "family values" to a meeting of evangelicals drew wide criticism about the dangers of politicians pandering to religion. In contrast, Hillary Clinton spoke to a largely evangelical audience in Pennsylvania , stating that "We want religion to be in the public square. If you are a person of faith you have a right and even an obligation to speak from the wellsprings of your faith." Henninger concludes that with the Pennsylvania race both Clinton and Obama, "in competition for votes, have conferred political legitimacy and respect on this swath of America." The changed strategy of Democrats to appeal to religious voters has been taking place for several years, according to the new book The Party Faithful
(Scribner) by journalist Amy Sullivan.
She traces the alienation of the Democratic Party back to the late 1960s and 70s when the crises of the Vietnam War and Watergate and changes such as the women's movement led to disillusion with traditional religious institutions among liberals The" culture wars" over abortion and gay rights likewise created new divisions between secular and religious Americans often expressed in political affiliations of Republicans versus Democrats. Sullivan writes that the realization that average Democrats (who were often Catholic) also shared a concern over values and issues such as abortion propelled Democratic operatives and a new breed of religious advisors to plan a more effective religious strategy, particularly after the defeat of John Kerry to George W. Bush in 2004. The strategy has included advising Democratic leaders and candidates to address matters of religion "early and often" in their campaigns and to work with clergy and congregations in a manner similar to that of Republicans. The emergence of new organizations, such as Common Ground, and the reenergization of older ones, such as Sojourners, often serve to mediate between Democratic politicians and their advisors and moderate and liberal congregations.
Richard Cimino
---
Richard Cimino is the founder and editor of Religion Watch, a newsletter monitoring trends in contemporary religion. Since January 2008, Religion Watch is published by Religioscope Institute. Website: www.religionwatch.com.