Amid controversy over the alleged evangelical activities in the Tirumala temple, Andhra Pradesh Chief Minister Y. S. Rajasekhara Reddy Tuesday said his government would bring a legislation to ban the propagation of other religions in Hindu pilgrim centres.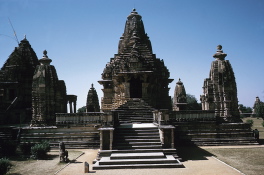 Hyderabad, Sep 26 (IANS) — The chief minister, who is in the temple town of Tirupati to participate in various programmes during the nine-day annual 'Srivari Brahmotsavam', said the government was committed to protect the sanctity of the ancient temple.
He was responding to the allegations by former chief minister and leader of opposition N. Chandrababu Naidu that the government had failed to check the activities of some organisations, which were preaching other religions in the temple.
Tirumala Tirupati Devasthanam (TTD), which looks after the affairs of the country's richest temple, has already denied the allegations by right-wing Hindu groups that Christian missionaries were carrying on their activities with the collusion of some TTD employees.
Propagation of any other religion is banned on Tirumala Hills where the 16th century temple is located. In a move to check any such activity, TTD recently made it compulsory for its 10,000 employees to sport tilak [a mark of auspiciousness, put on the forehead with sandal paste] on their foreheads.
TTD Board Chairman B. Karunakar Reddy said the board was committed to preserve and propagate Hindu values and traditions.
Recently the TTD set up a Vedic University, hiked the budget to TTD's Dharma Prachara Parisht (DPP) from Rs. 30 million to Rs. 200 million and renamed the DPP as Hindu Dharma Prachara Parishat.
One of the richest shrines in the world, the temple draws more than 50,000 devotees every day. The number crosses 100,000 during annual rituals and important occasions.
Lord Venkateswara is also called the Lord of the Seven Hills as Tirumala lies atop a group of the seven hills in the Nallamalai range of Eastern ghats.
Believed to be constructed in 1570 AD, the temple earns Rs. 5 billion annually through daily offerings by devotees.
---
© 2006 IANS India Private Limited, New Delhi. Posted on Religioscope with permission. — Indo-Asian News Service (IANS) is India's first multinational and multilingual wire service. Website: www.ians.in. Subscription enquiries: contact IANS (mention Religioscope).