It may be just words, but European Union policymakers struggling to build better ties with Muslim nations have set themselves a new task – hammering out guidelines to ban the use of terms considered derogatory to Islam. The focus is on stopping the bloc's officials and documents from using words that are considered offensive to Muslims or give the impression that Europe's drive against terrorism is specifically aimed at Muslims.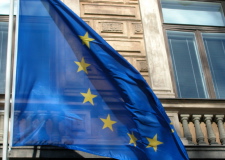 Brussels, April 23 (DPA) — Launched in December, the initiative has gained added importance and urgency as the EU struggles to mend relations with Muslim countries following publication this year of caricatures of the Prophet Mohammed in several European newspapers.
The cartoons, some of which depicted Mohammed as a terrorist, caused outrage in many Muslim countries, leading to violent demonstrations, the deaths of many protesters and attacks on European embassies.
EU officials say the search for correct terminology on Islam is part of an internal debate within the 25-nation bloc on how best to forge deeper ties with Muslim countries and reach out to the 20 million Muslims living in Europe.
One way of doing so, they say, is to make clear that Europeans do not equate Islam with terrorism but believe that extremist groups are abusively invoking Islam for their own purposes.
"Our aim is to clarify the EU discourse on Islam and to ensure there is no link made between any specific religion and terrorism," a EU official said.
"It is about using vocabulary to avoid misunderstandings and misinterpretations," said the official, speaking on conditions of anonymity.
The initiative would stop references to terms like "Islamic terrorism" and "fundamentalism", which critics say are often used by EU officials when talking about extremist groups operating in the Muslim world.
The so-called "non-emotive lexicon for public communication" would also urge officials to be careful when talking about "jihad".
Although the term is used by some radical groups in the Islamic world to mean a combat against non-believers, many Muslims say it refers to an internal, spiritual struggle.
EU insiders say the new lexicon will be non-binding but will probably be endorsed by the bloc's leaders when they meet in Brussels in June.
"What we get very often is people in the EU talking about Islamic terrorism when they are in fact talking of violence in the Middle East," says Sajjad Karim, British member of the European Parliament.
"Events in Palestine have little to do with Islam and a lot to do with the political frustration of Palestinian people," he says.
"Similarly, when young French Muslims protested last year, they were reflecting the realities of their lack of integration. It was not about Islam," Karim insists.
While waiting to see if politically correct language can help ease current strain between Europe and Muslim countries, EU officials, including external relations commissioner Benita Ferrero-Waldner and Javier Solana, the bloc's foreign and security policy chief, are doing their own bit to bridge the gulf.
Both Ferrero-Waldner and Solana told EU foreign ministers in Salzburg last month that the EU must work with the UN, the Arab League and the Organisation of Islamic Conferenc to rebuild trust with Muslim countries.
The paper also said that foreign policy measures must be backed up with tougher domestic European legislation to tackle Islamophobia and build a better dialogue with Muslims in Europe.
---
© 2006 IANS India Private Limited, New Delhi. Posted on Religioscope with permission. — Indo-Asian News Service (IANS) is India's first multinational and multilingual wire service. Website: www.ians.in. Subscription enquiries: contact IANS (mention Religioscope).