During the Christmas season, Christians celebrate the birth of the central figure of their faith, Jesus Christ. But some Christians across America worry that the holiday marking their savior's birth has become so secularized, it has lost its original meaning.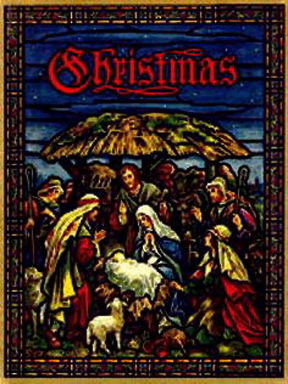 VOA, 15 December 2004 — For example, officials in Denver, Colorado, were taken by surprise earlier this month when their city's holiday parade became the subject of a peaceful, but deliberate protest. The officials had denied a local church permission to have an overtly Christian float in the annual parade, saying they did not want the public celebration to become too religious.
Marcel Carter — an elder and outreach coordinator for the Restoration Christian Fellowship, an evangelical congregation in suburban Denver – says he began to hear from colleagues at area churches who wanted to respond to the ban. "Through a network," he says, "several people called me and said, 'We want to do something, and so what we'll do is we'll meet along the parade route, and we'll just begin to do some caroling.' Not to be a distraction, but just to add another dimension, where people of different backgrounds, different cultures, different denominations can get together and just show the love of Christ."
And that is what they did. Church members sang carols about the birth of Jesus. They handed out free tickets to church-sponsored Christmas pageants. And they even passed around hot chocolate in paper cups emblazoned with their church's name.
In recent years, local officials across the United States have toned down the way governments display some of the more overtly religious symbols and traditions associated with Christmas, because they recognize that not everyone they represent is Christian. But the holiday is, say frustrated churchgoers like Patrick Korten, a spokesperson for the Roman Catholic Knights of Columbus organization.
"What it is, is a misinterpretation of the American concept of separation between church and state," says Mr. Korten. "Separating church and state does not mean that we pretend religion doesn't exist. And it certainly doesn't mean that we try to sterilize our culture of something that is so central to that culture in the first place. You're not hurting someone else's feelings, in our view, if you remind them that Christmas really is about Christ."
But not all Christians believe that is so important. John Boykin, a writer in California, has called for Christians to embrace the secularization of Christmas. He says a communal emphasis on the religious aspects of the holiday can alienate some people, especially in a culture as religiously pluralistic as America's. And besides, he says, fighting against secularization is a losing battle. Mr. Boykin says Christmas has become a time for people of all faiths to be with their families and celebrate the spirit of giving. And that's not a problem, he says, because ultimately the story of Christ's birth is not central to Christianity.
"What Christianity is all about is Easter, not Christmas," says Mr. Boykin. "Christ's death and resurrection are really what Christianity is all about. His birth is really not an important issue in Christianity, and if Christians put a fraction of the energy into Easter that everybody puts into Christmas, then the message that Christianity has to bring to the world would be much more powerful."
Meanwhile, officials in Denver are reconsidering their policy of not allowing overtly religious floats to participate in the community's holiday parade. And, for what it's worth, Christmas does still enjoy a special status in America each December. The Jewish holiday of Chanukah also falls in that month. And, depending upon the lunar cycle, so can the Islamic holy month of Ramadan. But Christmas is the only December celebration that has been designated a federal holiday. And that means that Christians who do want to keep Christ in Christmas can attend church services, without having to worry about going to work.
---