Sikhs settled in France Friday vowed to fight a new law that prevents their children from wearing turbans in school. A delegation of the Sikhs from that country, here on an India-wide tour to drum up support for the cause, said the Sikhs have gone to the French high court to protect their right to wear religious headgear covering their long hair and would approach the European Court if they did not get justice.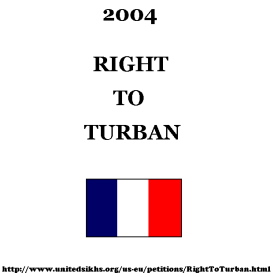 Chandigarh, Nov 5 (IANS) — "The French government is acting like the Taliban. Religious tolerance was lacking in that country with the new law," said Darshan Singh, a born French national who converted to Sikhism in 1991.
Clarifying that the French government had not given the Sikhs any concession as claimed, the delegation met prominent Sikh leaders and organisations here.
The delegation is planning to meet India's first Sikh prime minister Manmohan Singh.
Darshan Singh said he had given up his French citizenship — despite being a born Frenchman — and adopted British citizenship in 1991 after the French government refused to allow him to change his name on religious grounds.
Gurdial Singh, president of a French human rights body, said the government there was giving the impression that the problem with Sikhs regarding turbans had been resolved.
"Let me tell you. We and our children are facing the problem after the new law came into force," he said.
Gurdial Singh said under the prevailing situation, where Sikh students were not being allowed to attend classes, families of the community had decided not to send their children to study in other countries.
"They would pursue their studies through correspondence but would not leave France," he said.
The delegation has met Shiromani Gurudwara Prabandhak Committee (SGPC) president Jagir Kaur, former Akal Takht chief Ranjit Singh and several other Sikh leaders.
It said what the French government had failed to understand was that Sikhs had to keep long hair and cover that with a turban at all times.
"Its part of our attire. No Sikh can survive without it," he added.
United Sikhs of France president Kudrat Singh said the new French law was violating their fundamental rights.
"We will fight the new law. We are a small minority of just 7,000 Sikhs in France and a lot of pressure was being exerted on us not to take the matter to court."
The delegation said the new French law was essentially to suppress religious activity of minorities.
---
Website of the United Sikhs (news on the turban issue, etc.):
http://www.unitedsikhs.org/
© 2004 IANS India Private Limited, New Delhi. Posted on Religioscope with permission.