A German court has ruled that a regional ban on Muslim teachers wearing headscarves in state schools must also apply to Christian nuns, reports say.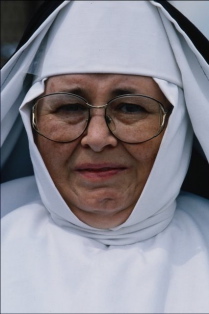 Ekklesia, 11 October 2004 — The south-western state of Baden-Wuerttemberg passed a law in April, preventing teachers from wearing Islamic-style headscarves, reports the BBC.
But Germany's highest administrative court says the law must apply to all faiths, Der Spiegel magazine reports.
Last year, the Constitutional Court said states could ban headscarves.
"Exceptions for certain forms of religiously motivated clothing in certain regions are out of the question," the federal judges of the Federal Administrative Court wrote in their ruling as quoted by Der Spiegel, in an advance copy of its Monday issue. A copy of the ruling was not available.
The court's decision means that nuns, who often work in state schools in the predominantly Roman Catholic Black Forest region of Baden-Wuerttemberg, will have to remove their habits before going into classrooms.
But the author of the legislation in Baden-Wuerttemberg, law professor Ferdinand Kirchhof, said the nuns' habits were "professional uniforms" and so not subject to the ban.
Baden-Wuerttemberg's parliament – dominated by a coalition of the opposition Christian Democratic Union and liberal Free Democrats – backed the legislation almost unanimously.
Another five out of 16 states are in the process of passing similar legislation.
The issue has been fiercely debated in Germany since Fereshta Ludin, who was denied a job in Baden-Wuerttemberg in 1998 because she wore a headscarf in school, went to court.
She argued that the German constitution guaranteed her religious freedom.
Last September, the federal Constitutional Court ruled by five votes to three that, under current laws, she could wear the scarf.
But it also said new laws could be passed by individual states banning them if they were deemed to unduly influence pupils.
In France, there is similar controversy about a ban on the wearing of religious symbols by pupils in state schools.
---
© 2004 Ekklesia. Posted on Religioscope with permission. An initiative of the Anvil Trust, Ekklesia is a not-for-profit think-tank which works to promote theological ideas in the public square. Website: www.ekklesia.co.uk