Railway Minister Lalu Prasad is reportedly working on plans to connect all important Buddhist shrines across India through modern and sophisticated rail links with Japanese assistance.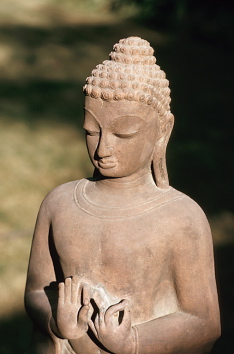 Patna, Aug 13 (IANS) — Sources close to Lalu Prasad here said the railway minister has asked top officials to implement a proposal to the effect that was first put up in 1990.
Japan, which has a large Buddhist population, has offered financial help to the rail project that will be equipped with modern signal systems and luxurious coaches. The old rail tracks would be renovated making it suitable for high-speed trains.
Lalu Prasad has reportedly asked top ministry officials to explain why successive ministers did not take up the proposal in the last 14 years.
When implemented, the rail link is expected to boost tourism in a big way, especially in Lalu Prasad's home state of Bihar, which has a rich heritage of Buddhist shrines. The holiest shrine is Bodh Gaya in Gaya district, which is considered the place where Buddha attained enlightenment 2500 years ago.
The project is expected to cost around Rs 12.5 billion.
Under the proposal, all Buddhist places in Bihar, Orissa, Uttar Pradesh and West Bengal would be connected by sophisticated rail links. The construction of new rail lines would reportedly be borne by Japan, which is keen on high-speed trains.
---
© Copyright 2004 IANS India Private Limited, New Delhi. Posted on Religioscope with permission.